Socom 3 was our first official professional strategy guide project.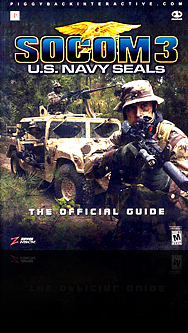 2005 marked our start in the strat guide business. Chief was able to acquire passes for 3 of us to attend E3 that year and we proceeded to head out to California and attend. We milled around checking out all of the sweet new up and coming games, and we passed by the Piggyback Interactive stand and Chief said, "hey, you should talk to them about your maps."
A little nervous and reluctant, I approached the guy who was greeting us there. He shuffled me off, uninterested, so I asked to talk to his boss. His boss was totally into it. I gave him my card and told him about all of the maps we had done for the previous Socoms and we parted ways. Additionally, we met the Editor in Chief for Brady Games.
Playing Socom 3 before its release...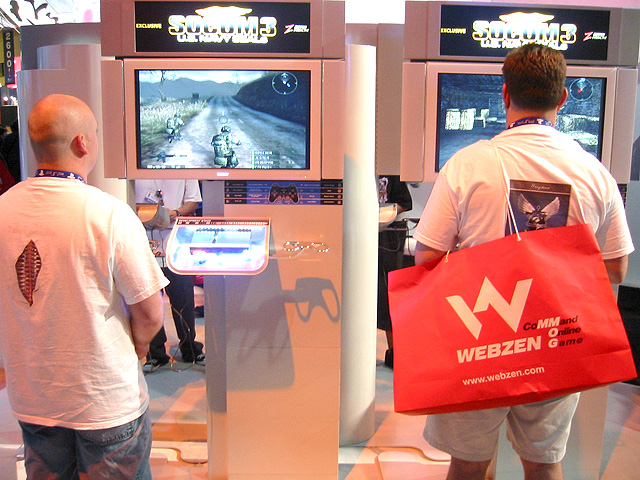 About 2 weeks later, Piggyback called me up and proceeded to tell me that mine was the only card he kept from the entire E3 show and that he wanted us to not only illustrate the maps for the whole guide, but to write the multiplayer text as well. Wow. Are you kidding?
I told them that we'd never written anything before and they said not to worry. They said we know the game, just write everything about it that you can and we'll edit it. So then we got our deadline, less than a month. Not only did we have to illustrate all of the multiplayer maps, but the singleplayer ones and the text too. I was immediately overwhelmed.
Talking to Chief, I said "dude, I've got to do 27 maps and write the entire multiplayer section in less than a month! There's no way, how can I do that?" He said, "So don't do it". I will never forget that conversation. I said "thank you Chief" and immediately began work on our first guide. That 4 word sentence was enough to motivate me to work ridiculous hours for a chance that no other clan had ever had, and to this day that we know of, still hasn't.
So in the time it usually would take to for me to do one map, we did 27 plus the entire multiplayer text. While we only had screenshots and a beta to work from on this project, we were still able to compile some of the best information possible for the game.
What an experience for us. While we didn't get to go on site for this job, it was our first, and we will never forget it. We know it was a little bit "sell out" ish of us since we had delivered all previous maps for free to the community, but it was an opportunity we could NOT pass up and we hope you all understand.
Here's the link to the write up about it and the PDF guide.
http://seasnipers.net/forums/showthread.php?t=14039
Here's the link to our trip out there with pics...
http://seasnipers.net/sse3
Nope the Dong didn't enter.